Adria´s orange iced coffee
An espresso sweetened with jam, syrup or orange juice is full of caffeine and vitamin C. Just what you need to get off on the right foot.
Have you already tried our fresh BIO orange juice, squeezed by our semi-automatic gently squeezing machine?
We recommend a special recipe to best enjoy the benefits of oranges together with the boost of coffee.


Ingredients
- 0.5 dl freshly squeezed BIO orange juice
- ice cube for serving
- 1 cup of espresso, cold

Or replace the juice with
- 1 teaspoon of bitter orange marmalade
o
- 1 tablespoon orange syrup


In a previously cooled glass pour the freshly squeezed orange juice, still with the full-bodied pulp.
Separately prepare an espresso coffee, we at the Adria Hotel use freshly ground coffee beans of the Alps Coffe quality supplied by Schreyögg, and let it cool. Then pour it gently together with the orange juice. Stir, garnish with a few pieces of ice and your tasty and energising mix is ready.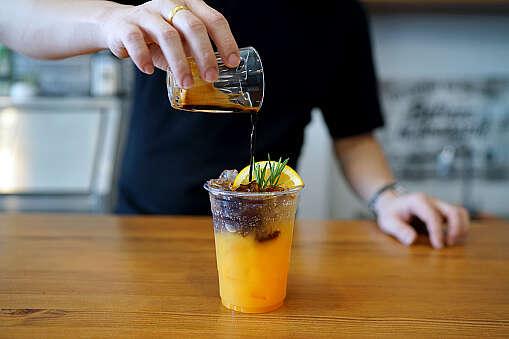 To the News overview